Due to the lack of camera theres been no blogging, but now I'm back with a fully working phone.I just can't remember what I've bought this last week !!
First up is my new clock, £1 at the car boot ,
Then theres this picture,again at the bargain price of £1, it's one of those 3d effect type things, don't know the correct name for them, but, you can see behind the boats, it's proper weird ! Pity the photo doesn't do justice to its amazingness ! I also have a poodle one somewhere and it 's head follows you as you walk past it, very strange ! I was stopped by a man as I was getting the boat pic in the car, he had really wanted to buy it as his wife loved it, I suppose I should have asked him for a tenner for it, but I want it !!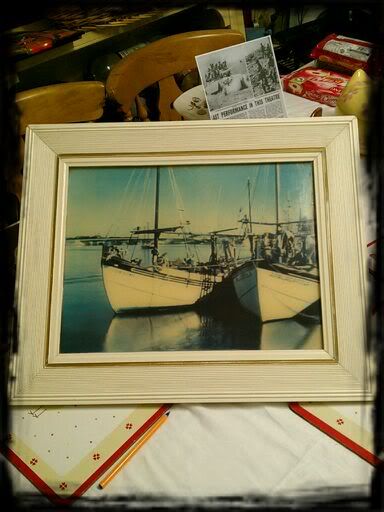 last of all for today is this mummified bird my Mum brought me up on her visit this week, my brother found it in his roof, do you think it would sell on ebay ???